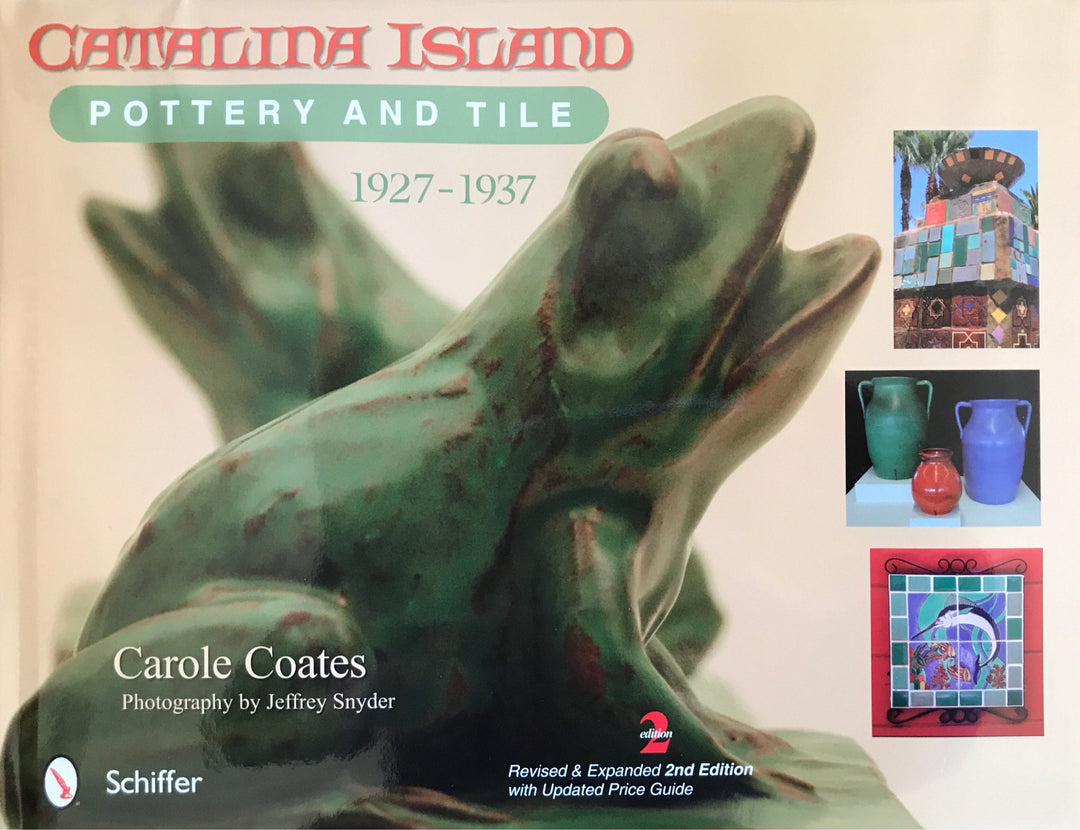 Catalina Island Pottery & Tile Book
Hardcover. Signed and personalized by me-the author! An essential guidebook with price information and over 500 color photographs. Up to date research and information for collectors and California pottery lovers alike.

"Twenty six miles across the sea…" the historic town of Avalon shows glimpses in doorways and secret tiled gardens, of an early California story that was nearly forgotten. This newly Revised 2nd Edition-a book that has been called "the bible of Catalina Pottery & Tile"- focuses on vintage Island-made wares and contains the most up to date pricing and buying information, along with newly discovered historic information gathered in the 10 years since the original version. Catalina Island Pottery & Tile: Island Treasures has been acclaimed by dealers and collectors alike as an essential guide, and this new version includes over 40 entirely new color images.

The amazingly diverse creative output of the Catalina Island Pottery and Tile Company (1927-1937) that operated just outside the town of Avalon at Pebbly Beach, during the Spanish Revival Movement, has attracted attention from collectors across the United States. This progressive "Golden Era" in California brought with it an artistic renaissance in architecture, art, and furnishings that greatly influenced the Mid Century modernist movement. In a decade we call "2Q20"-sandwiched between World War I, the gathering storm of World War II, the Great Depression, Prohibition, and the aftereffects of Mexico's tumultuous Revolution-Catalina's artistically inspired endeavor, using clay and minerals found on the Island, attracted plein air artists, top designers, and employed both Californian and Mexican trained ceramists and tile workers. This "pottery by the sea" was envisioned and created by remarkable men, first among them the preeminent businessman of his day, the chewing gum tycoon William Wrigley Jr., who prided himself on doing what others said could not be done.

Author, collector, and historian Carole Coates (California Revival: Vintage Decor for Today's Homes) hopes that her passion and fascination with this important period in California's art history will inform, inspire, and educate others, and that then-as-now this color-saturated style will provide a temporary antidote to the weightier issues of the day.